Wedding is the day of heavenly felicity which mainly comes once in everyone's life. We all want to make this day glamorous by exceptional decorations, dressing sense, foods, etc. Not only that wine bottles are one of the matters of concentration which can provide your wedding ceremony with an outstanding look, but that's also some way of painting wine bottles for weddings are giving here-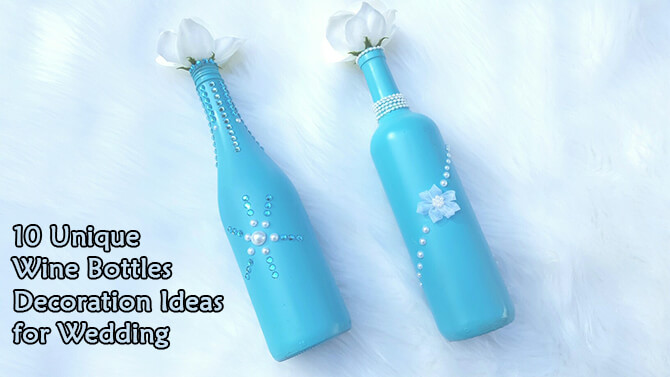 Ingredients:
Wine Bottle Cleaner.
White Spray Paint.
Three Colors of Acrylic Craft Paint.
Painter's Tape.
Paint Brush.
oven
How to Paint Wine Bottles for Weddings:
Procedure:
Firstly, you have to clean the wine bottle with an appropriate cleaner for making it ready to paint, then in a well-ventilated area, you have spray paint the bottle white & let it dry. By changing the angle repeatedly you have to 2-3 times so that the wine bottle may entirely be covered with white colour and make it dried.
Now you can use acrylic craft paint because they are very sticky to glass and the paint won't come off at the time of using.
You can also use painter's tape if you want to make a strip design over the wine bottle, for this you have to use the tape vertically over the bottle and paint the rest of the blank space and you will get a gorgeous wine bottle design.
If you want to use multiple colours then you have to paint the wine bottle by brush and its the easiest way to express various kinds of colourful unique scenes over the wine bottle.
Then you have to heat the wine bottle through the oven for making the paint permanent in the temperature of 350°F/ 177°C for 30 minutes and after making it cold your wine bottle is ready to decorate.
So, after painting the wine bottle they are ready to use in weddings for decorations, I'm providing some easy & unique ideas of decoration of wine bottles in wedding, they are-
10 Unique Wine Bottles Decoration Ideas in Wedding:
Table Number: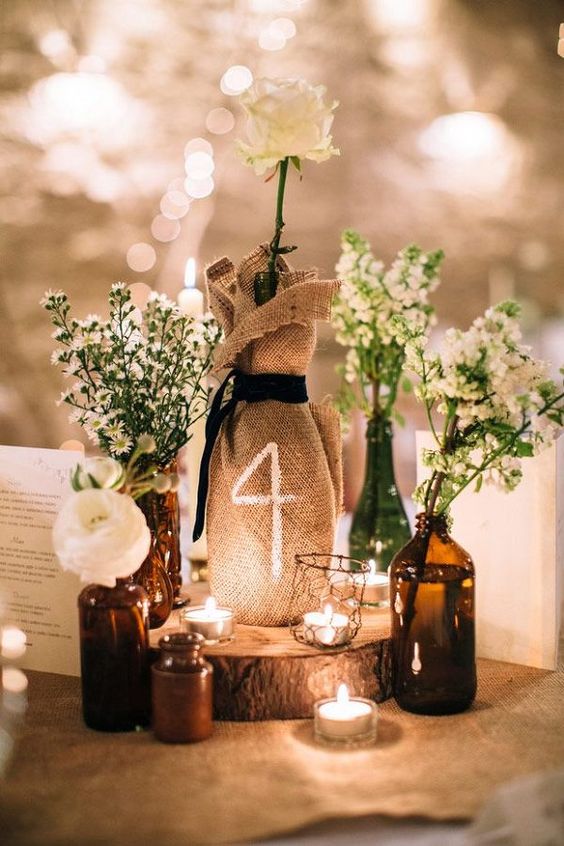 The lean shaped wine bottles are truly felicitous for presenting the table number. For this, you can paint the wine bottles with gorgeous colours and write the number with stones for decoration. You can hang the number on the neck of the bottle by little clipboard.
Menu of Dinner: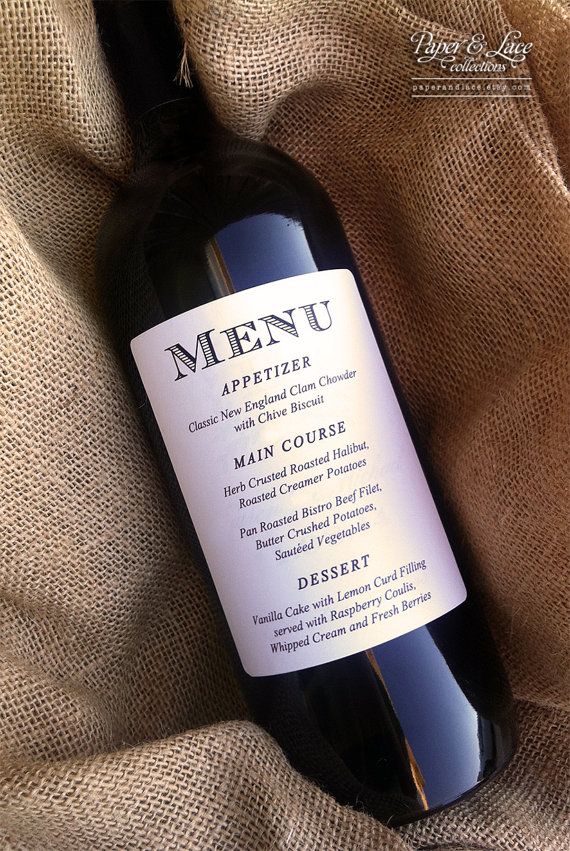 It's an incredible idea that you can display the dinner menu on the body of the wine bottle by which you will be appreciated by your guests. It's an easy showcasing process that makes your wedding party more classy.
Display Memorable Photos: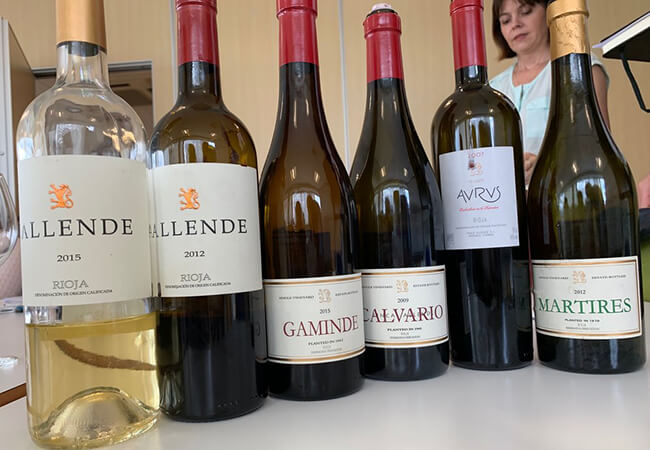 If you want to make the ceremony more special then you can arrange an exhibition of your journey of love or cute childhood photos or family member's photographs on the wine bottles. For this, you need to use decoupage glue for adding photos which is a very easy task to decorate them in a short time.
Light source: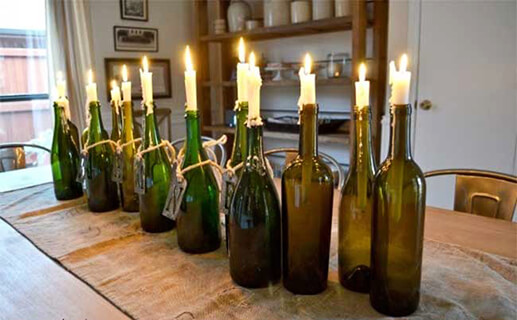 If you want to embellish your wedding ceremony with rustic ambience then you can use beautiful small candles or artificial light sources in the old wine bottle. It will look like luminaries and it can provide your wedding decorations at an extra level.
Glittering Flower Vase:
For making your wedding ceremony glamorous & sparkling you can use glitter-coated on the wine bottles and put congruous colorful flowers in it. Its a matter of happiness that you can use it as a flower vase because its an easy process expressing your rich outlook.
Lightening:
Its the easiest way for giving a gorgeous outlook to your wedding ceremony by keeping white lights deflating an amazing view that can emerge a romantic atmosphere. Moreover, it can transfer the mood of your guests towards peace, so it's such a good idea to decorate wine bottles at the party.
GuestBook:
Numerous guests are generally invited to the wedding ceremony because they have a great impact on the life of the newly married couple. They may have something special to wish them for the future married life, so some black coloured bottles & metallic markers can be arranged in the wedding ceremony where the guest can write their wish & signed over the bottle. You can preserve this bottle using it as a showpiece that is full of blessings of your wellwishers.
Twine Flower Vase:
If you want to give an extraordinary look to the wine bottles then you can use yarn twisting the wine bottle which will turn as a beautiful flower vase by giving your wedding ceremony a countrified environment. You can keep flowers like Daisy, Gerbera, light-coloured Roses, Nightingale sticks, etc.
Chalkboard Paint:
By doing chalkboard paint over the wine bottle, you can turn the bottle as an engrossing canvas where you can write the name of the bride and groom. Moreover, you can write the name of family members over the bottle, actually, the options are endless, you can use it as your wish.
Candlestick Holder:
No wine bottle decoration can be more romantic than using it as a candlestick holder. Moreover, it gives a traditional look and its simple to prepare because wine bottle's has long & narrow neck which are appropriate to hold candle properly. You can use painted wine bottles according to the color of the candle or the environment or you can use just simple white wine bottles.
Giving Directions:
In a large wedding ceremony event, sometimes its a matter of difficulties that guests can't find out the right directions for necessary things. On that point, a painted wine bottle can be used in wedding expressing the direction in lieu of using the arrow marks.
Metallic Centerpiece:
If you want to give your wedding a dazzling outlook then you can use wine bottles painted like metal. In the wedding ceremony, metallic colour sparks like gold and it provide a traditional look also, for this, you have to use spray paint over the wine bottle for shining it. Moreover, you can use it as a beautiful vase and keep artificial flowers.
I hope that this article will be helpful to you having a clear concept about how to paint & decorate wine bottles in a wedding ceremony.
Last Updated on March 4, 2022 by Marie Johnson