How to Get Rid of Split Ends at Home Fast Naturally and Overnight: Like most medical conditions, disorders of the hair are often referred to by Greek and Latin names. One such name that has not stuck is trichoptilosis, which a leading medical dictionary translates as "feather-like hair". This rarely-used term refers to the common situation of a frayed or split hair shaft due to loss of the protective outer layer of the cuticle, the tough but flexible covering of the hair. This exposes the internal structure of the hair and it can then unravel. The result is hair tips that split into two or more strands, white dots visible at the ends of hairs, knots in single strands of hair or holes in the hair that may be more easily seen if the strand of hair is bunched up.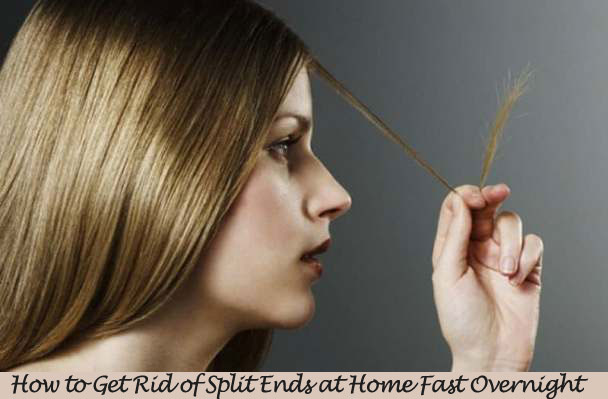 These can make hair look limp or frazzled, and are usually the result of heat or mechanical stress. Hair coloring, permanents, repeated curling or straightening or vigorous combing or brushing of tangled hair are among the chief causes of damage to the hair cuticle, and this can be a particular problem if you like to wear your hair long, because trimming the hair is the only definitely effective remedy for frayed or split hair.
How to Get Rid of Split Ends at Home Naturally Overnight in 5 Ways:
Some hair care products, particularly conditioners, are intended to seal the affected hair shafts back together, but many hair care experts believe that only trimming the hair every 6 weeks or so will prevent split ends. There is no way to reverse the damage to the cuticle of the hair once it has occurred, but you can avoid doing certain things that makes this damage more likely, and you can do other things at home that will lessen the damage and make hair more healthy, soft and silky in appearance.
#01. Things That Cause Split Ends:
An unbalanced or unhealthy diet and not getting enough water can contribute to frayed hair. Strong hair is less likely to split or fray, and you and your hair are both stronger with a proper diet and enough water. There needs to be moisture in the hair as well, and adding conditioners and moisturizers to your hair routine will strengthen the cuticle. Everyone likes clean hair and shampoo is important to keep hair clean, but too much shampoo contributes to hair damage and can increase the production of sebum by the glands of the scalp that in turn makes you have to shampoo more often.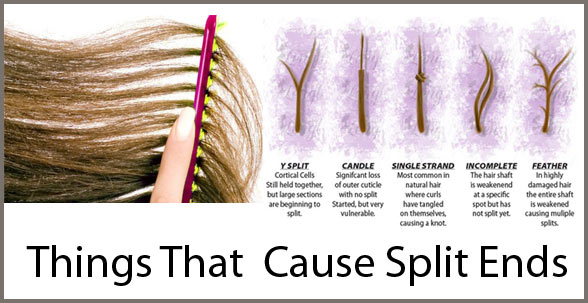 Moisture is good for the hair, but too much swimming may not be; excessive water and chlorine as well as exposure to the sun is stressful to the hair shafts. For that matter, heat contributes to fraying, whether from hair treatment, sun exposure or hair drying. Drying your hair with a towel may not be as hard on it as exposure to a hot hair dryer, but wringing and mashing the hair inside a towel as it is dried will also wear out the cuticle and permit splitting.
#02. How to Remove Split Ends:
The only way to get rid of split ends completely is to trim them, and some women wear their hair short or get frequent haircuts for that region. If you don't want to spend that much time–or money–in the salon, you can do your own trimming, focused on split ends. With a mirror, you can find hair strands that have split in two, hairs with holes in them (particularly if you bunch the hair up to look at it), hair with white spots and strands of hair with knots in them. Dry or curly hair is particularly likely to have knots or balls that will indicate a split end.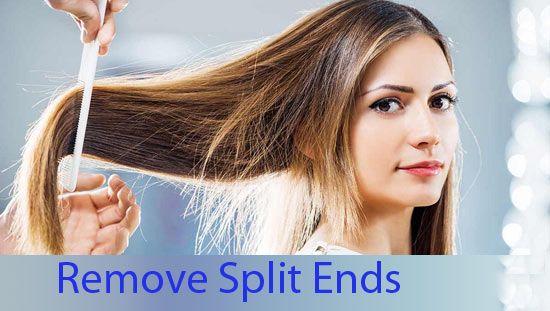 You can trim these yourselves, preferably with small hair shears, because larger scissors fray the hair and can in fact result in more split ends. Even though this may be time-consuming, particularly if your hair is long or thick, trimming split ends yourself will let you keep the style and length of hair you prefer.
#03. What Your Stylist Can Do: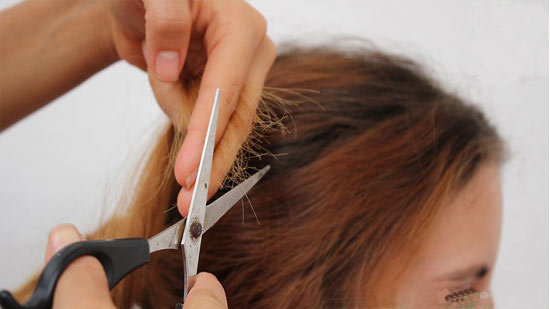 Most women will eventually have to see a hair professional, and many of them recommend a trim from every 6 weeks to every 6 months. Trimming split ends at these visits will usually remove up to an inch of hair. If you want to wear your hair long but still need split ends trimmed, it can usually be kept at the length you want by having the hair cut in layers.
The split ends in the surface layer can be trimmed but the lower layers can be left intact; this will get rid of the noticeably frayed hairs but will leave the hair's length more or less intact. Although women desiring longer hair will want fewer haircuts, staying away from the stylist is not the answer, because split ends will continue to fragment and will become weaker, more numerous and more noticeable.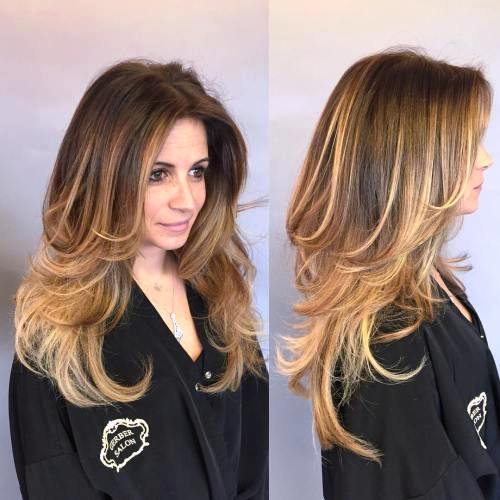 #04. Hair Masks from The Bathroom or Kitchen: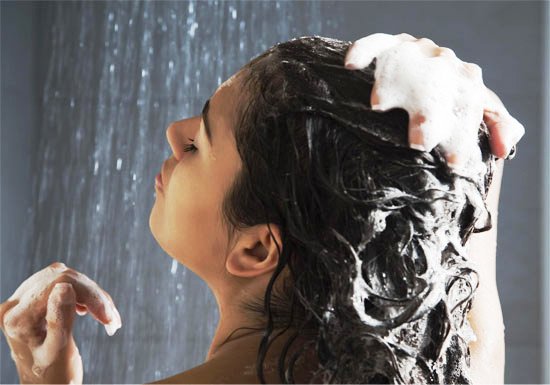 There are many remedies for split ends that can be applied at home, and the ingredients for many of them can be found in either the bathroom or the kitchen. Nourishing and protective hair masks will help to prevent split ends but also can make hair look healthier and shinier. It is better to apply these masks to the middle length of the hair and frayed ends rather than roots, because applying them all over will make the hair feel heavy and look greasy.
Olive oil or coconut oil can be warmed slightly and applied to the split ends, or oil can be combined with a mashed ripe avocado. Two table spoonful of oil with or without avocado can be rubbed on the hair, which is then put in a bun, and should be covered with a shower cap and allowed to sit for about 30 minutes.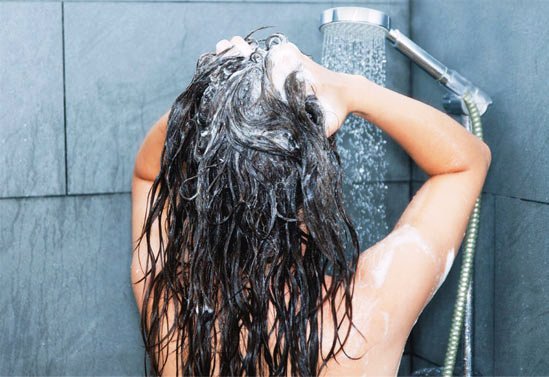 The hair should then be washed and conditioned as usual. You can follow this with a beer rinse, which will give the hair protein and sugar that strengthen its strands; it may also make your hair smell like beer, but you may not mind this or can get used to it, and many men will not mind this scent.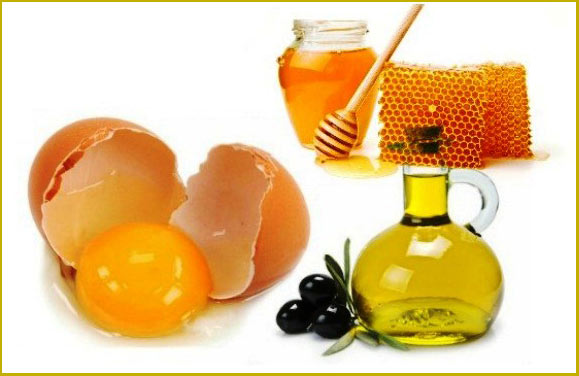 Another effective homemade hair mask is the combination of a tablespoon of honey and 3 tablespoons of olive oil with an egg yolk, applied to the middle of the hair and the ends and then followed by shampoo and conditioner.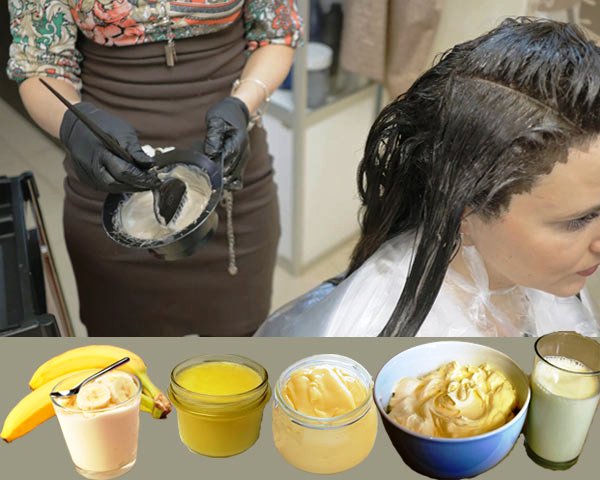 Other items from the kitchen that can strengthen hair include milk and cream, clarified butter or Indian ghee, mayonnaise, lentils and a banana. A tablespoon of cream in half a cup of milk can be whisked together and applied to the hair for 15 minutes, as can a papaya mashed and combined with a cup of yogurt until the mixture is pulpy.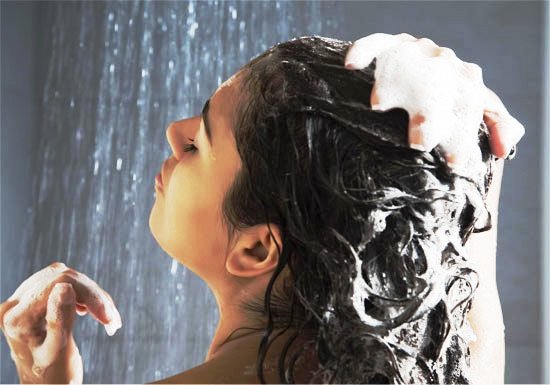 A mashed ripe banana can be combined with honey and an egg, used as a mask and washed off after half an hour. You can also grind a half cup of lentils, add a spoonful of fenugreek seeds and mix this with a cup of yogurt before applying to the hair. Straight mayonnaise will also work, spread on dry hair and rubbed into the roots, but this will need to be followed by shampoo and conditioner, preferable about twice a week.
5. Hair treatments from the bathroom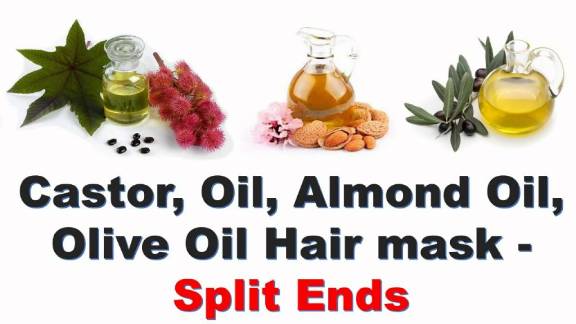 In addition to olive or coconut oil, castor oil will help split ends, often mixed with mustard and olive oil, rubbed into the hair and left for 30 minutes. Argan oil from the kernels of the argan tree from Morocco, or jojoba oil from the seeds of the jojoba plant that grows in California, Arizona and Mexico, can also be applied to frayed hair massaged into the hair.
Cocoa and shea butter are derived from the edible fats of South American and African nuts, but are more often used for beauty products. These too can be massaged into the hair followed by shampooing and conditioning.  There is also oil in the vitamin E capsules taken for many health reasons, and this can be mixed with lukewarm water and rubbed into the hair.
Not all women want to make home remedies, and there are many commercial shampoos, conditioners and hair masks that claim to strengthen hair strands and repair split ends. These may work better if applied for a longer time, an hour or so rather than the usual 2 or 3 minutes, covered by a towel or a shower cap and followed by shampoo and conditioner. These approaches, particularly with the regular use of moisturizers, may be especially useful for women with Afro-styled hair who have split ends. Read Also: How to Use Apple Cider Vinegar for Hair Growth
6. Hair products and treatments to avoid:
Split ends are often the result of heat and harsh treatments, and cutting back on curling, straightening, coloring or applying heat may be helpful. The effect of heat may be lessened by deep application of warm oil, and hair should be shampooed with cool rather than hot water. The effects of washing the hair are less if an alcohol-free shampoo is used, and it is better to wash your hair every two or three days rather than every day.
Flat irons and curlers should also be used every few days rather than daily, and allowing your hair to dry naturally is less stressful. There are times when a dryer has to be used, and partly drying the hair with a towel will cut down on the amount of heat that is required; when a hot dryer is needed, applying a heat-resistant serum to the hair will also help.
There is no way to prevent split ends entirely, and the only sure way to get rid of them once they occur is to trim the hair, but these are a few simple and inexpensive remedies that will reduce the split end problem and contribute to healthier and better-looking hair.
Last Updated on June 13, 2018 by Marie Johnson